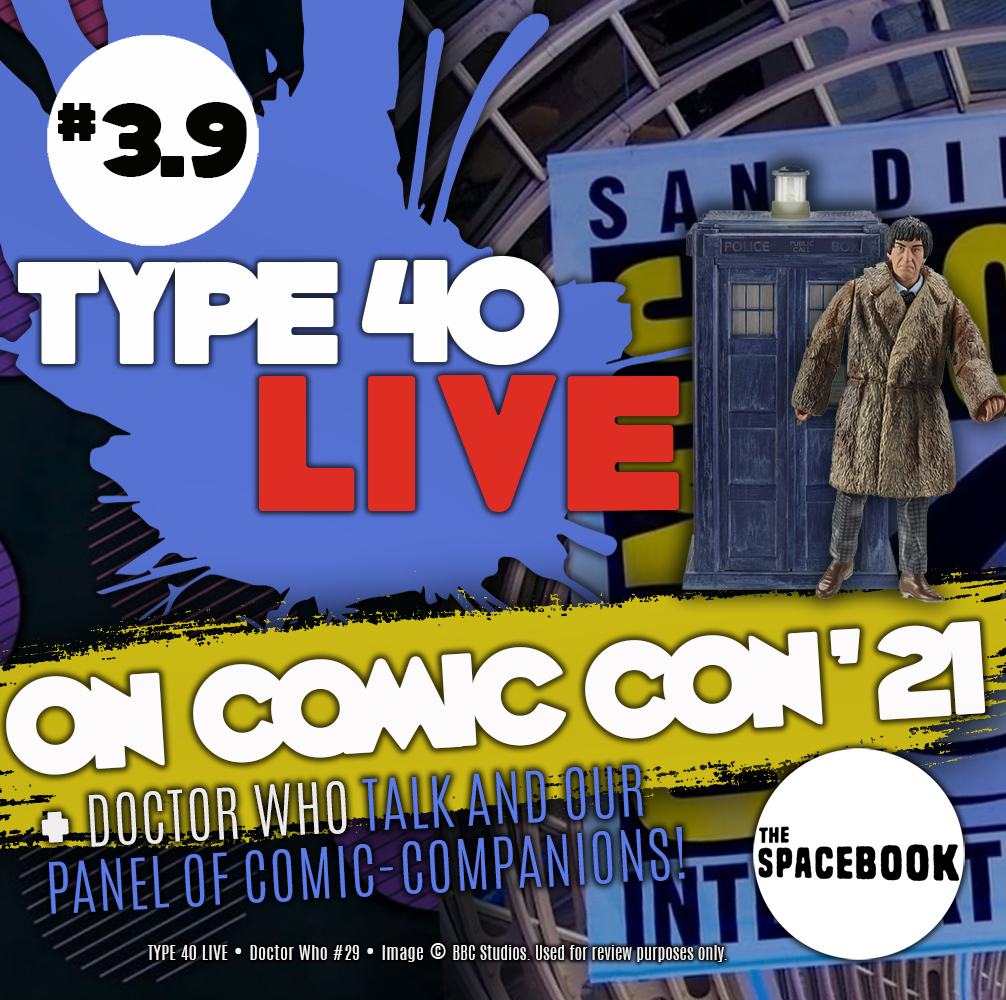 Episode #3.9: On Comic Con '21
* Originally livestreamed on Tuesday Jul 27th, 2021


When the first teaser for Series 13 dropped, in the Summer after months of near silence from the current TV series incarnation of Doctor Who? The fanbase quite naturally were picking through every second. On this edition of Type 40's completely live, sister show we give our instant reactions to that. But perhaps more importantly, the full Comic Con 2021 panel. Where the cast and showrunner were present. Revealing the identity of their special guest star for the upcoming season after a degree of hype!
PLUS we cover the latest merchandise, discuss more pretty pictures and fire off rounds of our customary banter! Both with one another and those brave enough to have joined up for the live chat, on YouTube and Facebook. Stream or download the show now, right here:
* See the Doctor Who Series 13 Launch Comic Con '21 panel here: https://www.youtube.com/watch?v=QzDth...
** Cutaway Comics Kickstarter Orcini Comic Book: https://www.cutawaycomics.co.uk/
*** 13th Doctor Console Model https://www.bigbadtoystore.com/Produc...
Find Type 40 • A Doctor Who Podcast feed here at:
Listen to Type 40 on:
Apple Podcasts, Spotify, Stitcher, Google Play, iHeart Radio, Tune In and the Podbean App.
Or as part of FPNet Master Feed @Fpnet.podbean.com
If you would like to contact us directly you can:
Email: type40drwho@gmail.com
Twitter: @type40drwho
Instagram: @type40doctorwho
Facebook: Type 40 • A Doctor Who Fan Page
Join the Facebook group Type 40 • A Doctor Who Fan Group: http://bit.ly/type40_fbgroup


* This show was originally livestreamed to YouTube and Facebook on Tuesday Jul 27th, 2021

Catch Type 40 LIVE completely live and interact with us directly on The Spacebook's YouTube channel.

Thursday evenings UK time from 8:00pm. Subscribe at the link below:

https://www.youtube.com/channel/UCh8T5-mFYWblZo6lnakCSCw