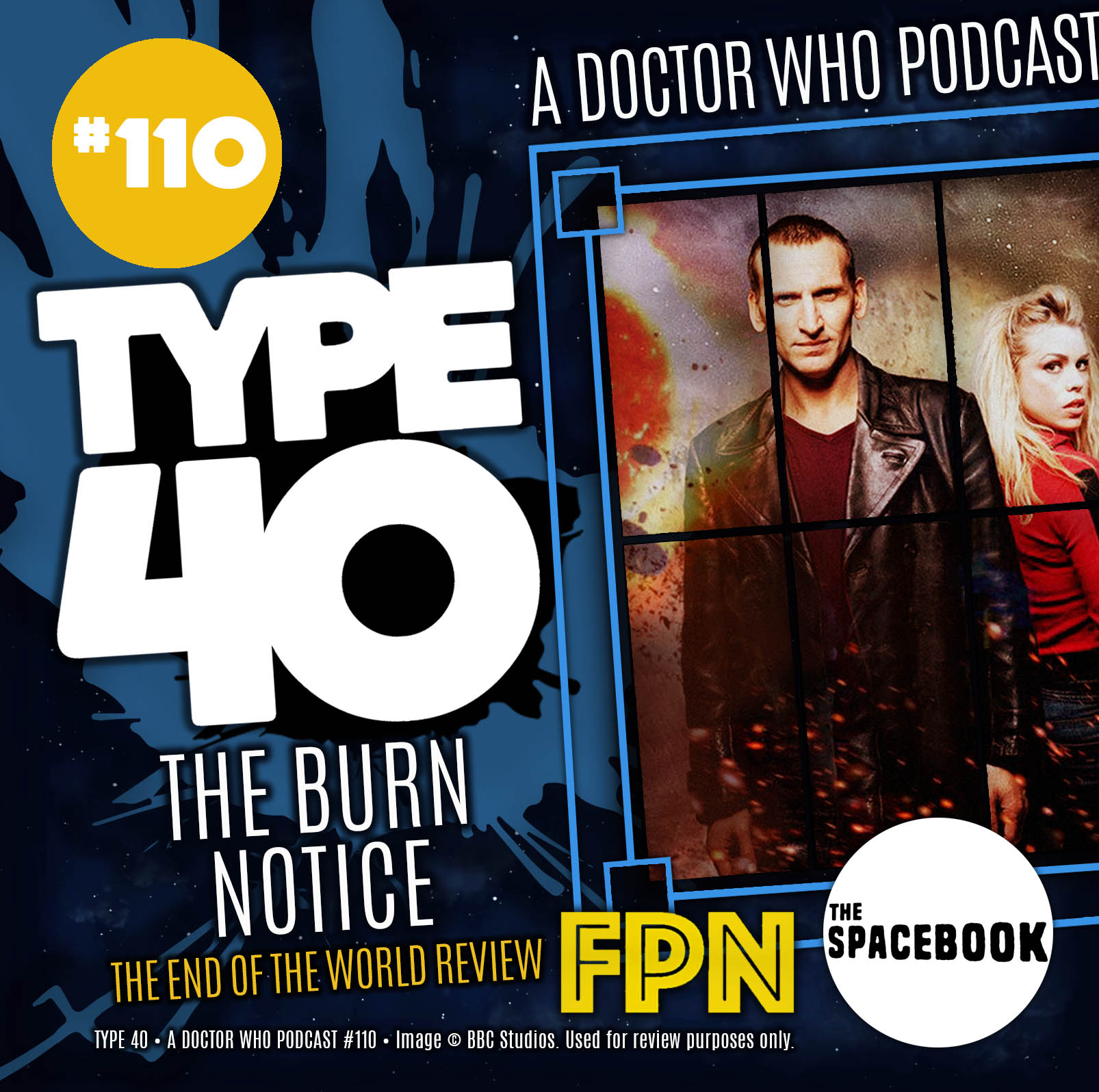 Type 40 • A Doctor Who Podcast
Episode 110: The Burn Notice – The End of the World Review

Last time we convened to review a classic episode of our favourite TV series, we left the Doctor and his new friend Rose on a cliff-hanger: she'd just ran through the open door of the TARDIS. Leaving boyfriend Mickey and the rest of her life behind. For how long? Turns out it would be millions of years when the story and our Type 40 Club Doctor Who revisits pick-up!
Joining our designated driver, Dan again are Wendy and Ian. Along with returning co-host Sarah to look at pivotal episode "The End of the World" from 2005. Listen along as they compare radically different takes on Russell T Davies second script for the series as well as their own memories from the most exciting of Summers: when our show took Great Britain by storm once again.
Naturally we're all hoping the returning showrunner can do this again: maybe even better, come Series 14. For now though, here's the latest word from us on "the day the Earth died in a ball of flame". It's everything but toxic and here for you to stream or download: 

Find Type 40 • A Doctor Who Podcast feed here at:
Listen to Type 40 on:
Apple Podcasts, Spotify, Stitcher, Google Play, iHeart Radio,
Tune In and the Podbean App.
Wendy on Twitter @wendology1
Ian David Diaz on Twitter @iandaviddiaz
Dan Hadley on Twitter @the_spacebook
Or as part of FPNet Master Feed @Fpnet.podbean.com
If you would like to contact us directly you can:
Email: type40drwho@gmail.com
Twitter: @type40drwho
Instagram: @type40doctorwho
Facebook: Type 40 • A Doctor Who Fan Page
Join the Facebook group Type 40 • A Doctor Who Fan Group:
Subscribe to The Spacebook YouTube channel for extended and extra Type 40:
https://www.youtube.com/channel/UCh8T5-mFYWblZo6lnakCSCw
TeePublic Store:
Help support the Fandom Podcast Network and wear some of their fantastic original designs and logos on t-shirts, mugs, hats and more from Tee Public Go to: https://www.teepublic.com/user/fandompodcastnetwork or just search Fandom Podcast Network to find our storefront.
Please listen to our other awesome podcasts on the Fandom Podcast Network:
Master Feed: https://fpnet.podbean.com/