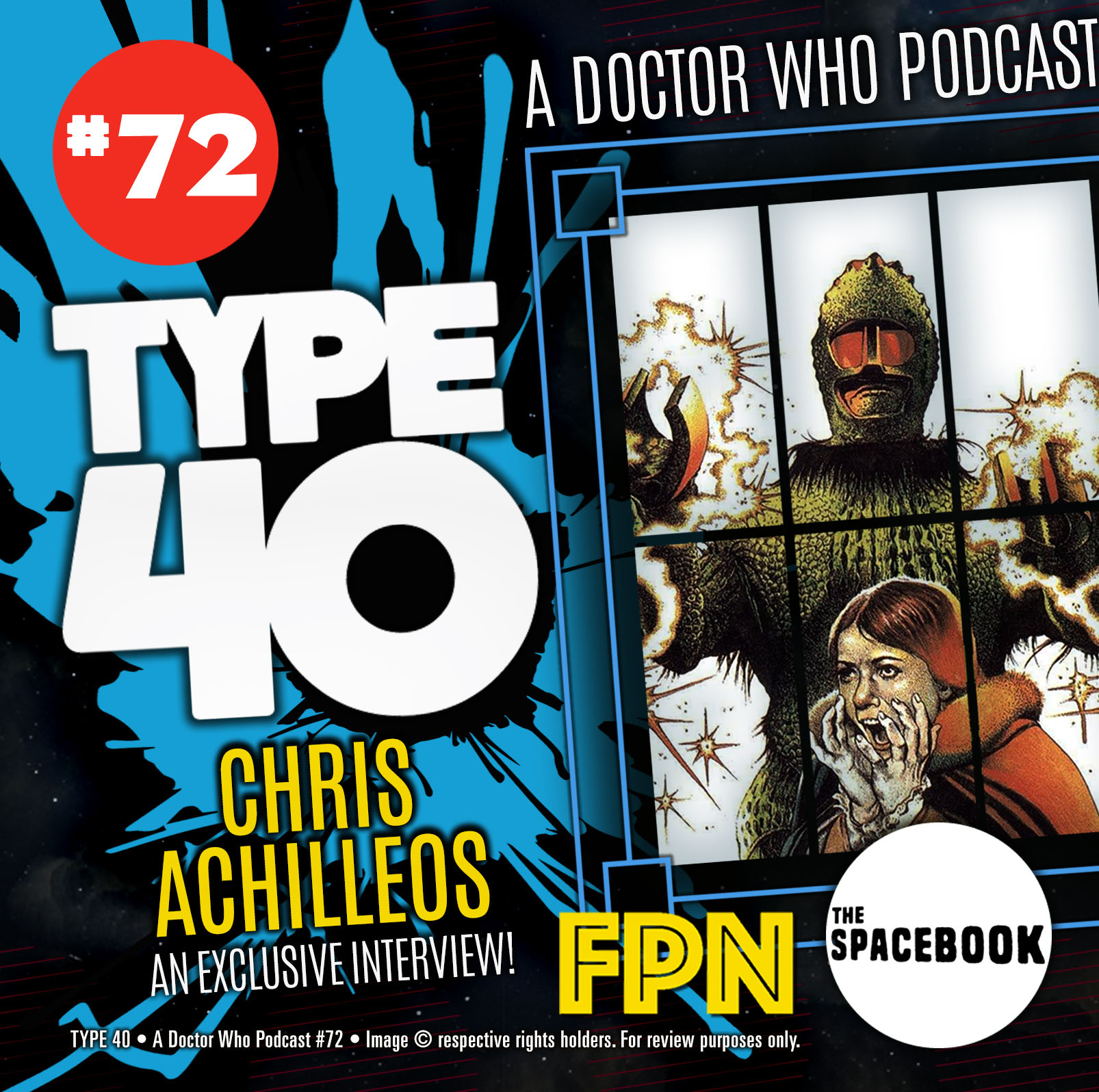 Episode 72: Chris Achilleos
Truly thrilling adventures in time and space and conversation on this edition of our Doctor Who podcast, as we welcome a very special guest. A man with decades' worth of experience in the art and design industry and a gallery's worth of evocative, bold and consummate
imagery to his credit. A proportion of which is extra special to Doctor Who fans. Particularly, though not exclusively those who were children in the 70's and the 80's…
Lifelong fans, hosts Dan Hadley and Simon Horton were ecstatic to meet Chris Achilleos: legendary artist and innovator on the "Target Books" Doctor Who covers. For an exclusive interview about his life and work. Together they recount Chris's early days working on the fledgling range; their extraordinary success and taking in how his own timeline crossed with major film directors like Ridley Scott and even pop stars!
Right up to date with a return to Doctor Who and the launch of a dedicated, long awaited art book collecting the whole of that work* Plus, the launch of a whole line of exclusive merchandise guaranteed to make your eyes pop and heart desire** 
Chris Achilleos is an extraordinary man. His humility, generosity and talent are very much in evidence on this exciting instalment of Type 40: A Doctor Who Podcast. Stream or download it here…
You can always find Type 40 • A Doctor Who Podcast at:
type40.podbean.com
On the FPNet Master Feed @Fpnet.podbean.com
Listen to The Fandom Podcast Network on:
Apple Podcasts, Spotify, Stitcher, Google Play, iHeart Radio, Pandora and the Podbean App.
If you would like to contact us directly you can:
Email: type40drwho@gmail.com
Twitter: @type40drwho
Instagram: @type40doctorwho
Facebook: Type 40 • A Doctor Who Fan Page
Join the Facebook group Type 40 • A Doctor Who Fan Group:
http://bit.ly/type40_fbgroup
Simon Horton @The Whonatics on Facebook
Dan Hadley on Twitter and Instagram @The_spacebook
*Order "KLAK! The Doctor Who Art of Chris Achilleos" from Candy Jar Books here:
http://www.candy-jar.co.uk/books/klakkthedoctorwhoartofchrisachilleos.html
** Visit the official website of Chris Achilleos here:
TeePublic Store:
Help support the Fandom Podcast Network and wear some of their fantastic original designs and logos on t-shirts, mugs, hats and more from Tee Public Go to: https://www.teepublic.com/user/fandompodcastnetwork or just search Fandom Podcast Network to find our storefront.
Please listen to our other awesome podcasts on the Fandom Podcast Network:
Master Feed: https://fpnet.podbean.com/